Volksmed School of Health & Pharmacology is the first specific dedicated School on the Scientific field of Health and Pharmacology. It educates future health professionals on Health & Preventive Health treatments and methods, thus preventing in the majority of the cases both disease and surgery.

The Human Body is not created nor design to malfunction, it is the actions upon same from the individual either mental, spiritual or nutritional which concur to the formation of any acquired body malfunction or disease.

Volksmed School of Health and Pharmacology is a nonprofit, private Teaching Institution offering Academic Courses with a rigorous multidisciplinary curriculum based on a wealth of academic and clinical research. Its Registered in the United Kingdom as a Learning Provider. The School educates and trains both students and physicians, practitioners and pre-professionals in the Art, Science and Research of Health.

The School Curriculum is based in Scientific Research, Evidence-Based Clinical and Therapeutic Integral Health and Pharmacology.

With the increasingly disappointment and visible concerns on the approach of the so-called Allophatic or Heroic Medicine, which is alarmingly based on synthetic drugs, failing antibiotics and much needless surgery, the last century (the 20th Century) may well have become in many countries more of an economic industry than a health care one.

The School continues and advances the work of these former Institutions & Health Schools:
Hygieo-Therapeutic College: operated by Dr Russel Thacker Trall, MD Founded in New York City (1853), and in New Jersey from 1869 to 1877. The College was a hydropathic institution, opposing drug-based medicine and advocating approach to health by the use of Hydrotherapy. Instruction at the College emphasized the curative powers of the internal and external uses of water, a simple diet, proper exercise, and fresh air. The school placed little reliance upon synthetic allopathic drugs of any kind. Dr John Harvey Kellogg, MD was a student at the School.


Western Health Reform Institute: known as the Battle Creek Sanitarium and its health reform ideas taught, and brought to international prominence by the charisma and medical genius of Dr John Harvey Kellogg, MD, who developed a rational, scientific and intuitive method of health building and training, brought together in one place and under unified control, all the resources that modern medical science has developed to heal the sick and to prevent future illness by educating all persons in the methods of a healthful living.


British College of Health: Established in 1828 at Hamilton Place, 33 Euston Road, London, England.


Reformed Medical College of New York: Established in 1830 for for the express purpose of teaching the various branches of medical science, and the principles of the botanic or reformed system of practice. The erection of this college led to the formation of a society called the Reformed Medical Society of the United States.


Tilden Health School and Sanitarium: At 3200 Block of West Fairview Place & Grove Street in Denver, Colorado USA (1890) by Dr. John Henry Tilden MD, who was a keen advocate against medical errors and unnecessary drugs and surgery, with the emphasis on healing oneself by means of a healthy diet and good hygiene.


Weltmer School of Magnetic Healing & Suggestive Therapeutics: First established on the 19th of February 1897 in Nevada, Missouri. Sydney Abram Weltmer, was a mental scientist. Chiefly self-educated. Studied medicine four years. Licensed to preach, but gave up the ministry and taught school until 1896. Made extensive experiments in hypnotic phenomena, leading to suggestion in the cure of disease. Founder of the Weltmer Institute of Suggesto-Therapy, which may be called the foremost school for mental healing in America. Its teachings are partly based on the ancient Germanic "sympathy" treatment which was largely practiced on the continent of Europe, including magnetic stroking and laying on of hands. A system of suggestive treatment aiming to bring the body and mind into harmony." One of the main fundamentals teaches that the mind controls and heals the body through the thoughts it forms.
The school had a Sanitarium where nearly all cases are cured without the aid of drugs or surgery and consisted of a four year program that included courses in the art of healing and the Philosophy of Health, Suggestive Therapeutics, Anatomy, Physiology, and Pathology and resulted in the degree of a Doctor of Suggestive Therapeutics (D.S.T.).


Weger Health School: Established in 1915 at the Henry Fisher Mansion in Redlands, California. Dr Weger was a disciple of Dr Tilden.


Davis College of Neuropathy: 154 West 23rd Street Los Angeles California, USA (1915)


Southern Neuropathic College: Montgomery, Alabama, USA (1921)


New Health Society: Sir William Arbuthnot Lane, MD, Bt, CB, FRCS, Legion of Honour, in the early 1920s, an early advocate of dietary prevention of cancer resigned from British Medical Association and founded the New Health Society, the first organisation practicing social medicine. The teaching of the New Health Society "We Declare that Civilization has produced many diseases almost unknown among primitive races living in their natural environment. The hospitals are crowded with sufferers from tuberculosis, cancer, rheumatism, arthritis and gastro-intestinal diseases, &c., due to wrong feeding, impure food and air, and lack of hygienic knowledge. There is convincing evidence that if Men will eat natural food, adopt right habits and take sufficient' exercise, the diseases of civilization can be kept at bay. Out of 50,000,000 persons now living in these islands, at least 5,000,000 will die of cancer unless new and effective measures are adopted.

The statement of its objects made by the Society
1. To spread the knowledge of the newer discoveries of science which concern the preservation of health and the prevention of disease.
2. To teach the advantages of right food, fresh air, sunshine and exercise through the medium of newspapers, pamphlets, books, wireless and lectures.
3. To co-operate with local authorities, schools, churches, medical officers of health, trade unions, nurses' and other women's organizations, welfare centres and every other available agency.
4. To influence caterers and heads of schools, colleges and other institutions, to provide pure, natural and unspoilt food.
5. To secure improvement in the quality and supply of milk, fruit, vegetables, bread and other foods by urging the best methods of production, storage and distribution.
6. To prevent profiteering in food, and to improve and cheapen transport in order to reduce food prices.
7. To adopt every available means of preventing the contamination and adulteration of food and to promote legislation for this purpose.


Nature of Disease Institute: founded in 1929 by Professor Dr. James Eustace Radclyffe McDonagh FRCS remaining its director until 1959. Dr McDonagh was a British Surgeon at the London Lock Hospital and a Fellow of the Royal College of Surgeons. In 1916, he was appointed Hunterian Professor at the Royal College of Surgeons.
"As a scientist of fifty years of study and research, I come to the conclusion that the things which we have said are impossible today become possible tomorrow; the things we considered improbable today become possible tomorrow; things we considered improbable today by the professional men may be found to be curable by some other method tomorrow." - Sir Oliver Lodge

While expanding on much scientific and experimental work done in the fields of Hydrotherapy, Osteopathy, Eclectic and Anthroposophic Health. Volksmed School teaches non synthetic and non surgical Health Sciences which are agreeable with the natural body system.

The School was formed in 2014 with the aim of establishing a New Field of Health and Pharmacology Science developed based on the advancement of the Scientific Nature and Functioning Principles of High Value Medicinal Plants, Clinical Nutrition, Hydrotherapy, Osteopathy, Emunctology and the comprehension of Spiritual Phenomena. To Teach the Essential Nature of Disease, and the Modus Operandi of Remedies; and thereon to predicate a philosophy and a practice of Health which is correct in science, in harmony with all of the laws of Nature, in agreement with every structure and function of the living system, and successful when applied to the prevention or cure of disease.

Thus to establish the understanding of a sophisticated health system model that considers the interaction of all aspects comprising the human condition both Body, Mind and Soul. Health is wholeness and its achieved only by a harmonious balance among the interacting aspects for the physical body, mind and soul. There is a natural innate tendency for the physical body to regenerate and therefore to heal itself.
---
Medical School
"I would a thousand times rather he knew psychology, sociology, the healing power of love, friendship, and music, as well as practical anatomy and physiology, plus the principles of dietetics and hygiene, than to be on speaking terms with every microbe. I would also want to know what the examinee knows about health—not merely disease.

The College Itself

There is more rational medicine or therapeutics taught in many a small school or college than in the large, beautifully decorated school with massive marble walls, high ceilings, many microscopes, fancy test tubes, baseball teams and tennis courts.

Some of the most prominent physicians in the United States came from small, almost unheard of colleges or universities, and as for preparatory requirements, such as a high school diploma, one or two years' academic work, so many units for college work, or a degree such as B.A., and the like, as a prerequisite to entering a medical college, let us be reminded that some of the most prominent and successful physicians of our time have been men who entered college when the two-year course was still in vogue.

And those college years meant practically five months' work a year. Many a student worked part of the day or remained out of college many days at a time because he had to work to make ends meet while going to college, and yet, he became an intelligent, prominent and successful doctor. Not only that, but many of these same good, elderly men in the profession never went to a public school further than the fifth or sixth grades.

There was a time when, if a young man studied under his father or uncle for a certain length of time (and, who will swear that he "put in full time") he was then permitted to take an examination, and if he passed, received his license to practice. Later on, some of these physicians became the teachers,—and the professors in colleges.

They, themselves, did the teaching to others. Some wrote wonderful ar-tides in medical and popular journals and even wrote textbooks that we younger and modern physicians consult from time to time.

Again: the truth is that natural adaptability and low for the healing art and knowledge is more essential or important as a requisite for matriculation and preparation, in a medical school, for the life work of being a physician in the full sense of the term, than is mere academic knowledge, usually crammed into the brain, in order to "pass" examinations, and obtain the needed degree or diploma.

In other words, so-called education (the kind you are supposed to receive at high schools and certain colleges) is not always a complete, true or absolute requisite for a fundamental knowledge of principles in the study of man, in Health and disease. Further, it simply proves that the school does not necessarily make the man, but that the man makes the school.

Real Education versus engraved pieces of Paper

Far be it from the author to decry or belittle the value of real education. In fact, the more genuine education and real knowledge the better, but we claim that merely having "passed" high school examinations or "going through a college" is not in its last analysis a real and sufficient requisite or "preliminary" for a medical education.

We would rather admit a young man who possesses good common sense and only a common school education plus adaptability and low for the healing art, than a "silk hose, fancy, necktie dude," who just arrived "fresh" from college with his B.A. in hand (not in head) and who would never matriculate, forcing him to enter school or because "ma" thinks it is "so nice" to call her pet boy "doctor."

We would prefer common sense and love of human service, plus ordinary knowledge, any time to artificial or routine training (sometimes stifling individuality) and "parrot-like education." The mere possession of a piece of engraved paper (diploma) is no true indication of what is stored up in a man's cranium.

The Progressive School

It would seem that medical schools should have "a chair" for each system of medication. The Allopathic, Eclectic and Homeopathic systems should be taught by the respective experts on the subjects. In this way the young physician would know all systems of medication and could adopt any system (or combination of systems) that appealed most rationally to him, or select from all systems that which appears the most wholesome, reliable, effective and natural.

Why not teach also in the schools all the drugless methods? Osteopathy, Mechano-therapy, Hydropathy, Chiropractic, Dietetics, Mental-therapy and all other systems of treatment should be taught under one roof. Why not?

What harm could there be in it? Why not be tolerant? If there is good in any of these "new" methods of treatments, let men know them and adopt them, and if not, they can surely discard them or not even accept them. It may seem to those who have not investigated this phase of the subject that a study of all systems of healing —drug and drugless—might prolong the course of study to eight or ten years, instead of four or five as now, but such is not the case.

If some of the subjects in the medical colleges were eliminated, such as Serum Therapy and Bacteriology (should be studied under the domain of Biology at High School, at the University, under private tutorship, or alone), and if all teachers were full paid teachers and were real pedagogues, even a two-year course (one year for theory and one year for practical work) would be sufficient for most persons of intelligence.

I believe that this advanced view may disturb the "dignity" of some, who still worship the "hurrah spirit" of my alma mater, my class, my college and my profession, but we feel confident that a close study (without prejudice or monetary interest) will convince all truth-loving persons that this view and suggestion is correct and timely.

The present four and five-year system—full of technicalities (largely of academic importance) is uncalled for and works a hardship on those who would love to study health and the healing art.
In that way the young physician would come out more of a "finished product," and he would not be prejudiced. Thus the public, as well as the doctor himself, would be better off.

The old, narrow training and feeling that only "my ideas" are right, and Jones' ideas are not even worth listening to, is all wrong. Let us have democracy, even in the study of medicine. We are living in a more progressive age and it would be very timely and becoming.

Teaching and the Teacher

If we cannot have real teachers, and real teaching on real subjects, then let us give up the schools. A teacher should have the right to teach as he thinks best for his class in view of his subject. He should not be discharged by the Board of Trustees for having discovered a fact, nor for giving the fact to the class.

We should adhere to the proven truths even if they are old truths. We should not teach that of which we know nothing. We should do less guessing and more thinking. Schools should not exist for the sake of books, instruments, and politics, but everything, so to speak, should exist for the sake of the school, which should be the medium through which knowledge of health is imparted for the sake of alleviating human suffering and preventing human ailment.

Schools should be places where the laws of nature are taught and where we may learn that the violation of nature's laws means suffering and untimely death, whereas, complying with nature's laws means comfort, health, vitality, happiness and longevity." - Dr Simon Louis Katzoff, MD, in "Timely Truths on Human Health", 1921.
---
Concerning Cure

The School does not offers methods of Cure. The School offers methods of Treatment in aiding, and not hindering the body.

The Body Cures Itself!
The Body Heals Itself!

The School name is formed by the initials of the German language words Medizin and Volks; which translate to Health & People, thus a more Humane Health Care System.
To Further Scientific Research & Clinical Trials on the fields of Health Sciences:

1 - To establish a new model for Health Philosophy where patients cared primarily for themselves using dietary, hygienic methods and mental/spiritual aid.
2 - Conduct rigorous, Inter-Disciplinary and International Academic Collaborative Research into the efficacy, safety and costs of Integral Health.
3 - Promote out of the box thinking in the field of Health (we cannot create solutions with the same thinking which problems where created in the first place).
4 - To promote objectivity in the field of Integral Health.
5 - All our research in view to maximise benefit, and minimise risk for patients and consumers of Integral Health, and to dispel myth with the conduction and application of Evidence Based Health Trials.

The School works towards consolidating the pioneering field of natural science and spiritual wisdom to become just as useful and practical and as measurable as any other phase or science of human experience.

Thus the School aims to offer a different approach to a more Integral and Natural form of Health and to successfully prepare the best Health Care Practitioners who will be able to provide a service without the use of synthetic drugs. To prevent the lack of ethics found in some pharmaceutical companies which are interested not in the research and study in the prevention of common disease, but on the tackling of its effects instead. Thus, totally unnecessarily prolonging human suffering, which many of present body ailments can be prevented and avoided, by the use of correct and balance healthy diet.
Our aim is to Educate and regain people's knowledge of Natural Healing Methods, effectively used by previous generations, and to serve as an International Organization which wants to promote this Natural Healing Human Knowledge. Thus we intend to preserve and further the study of these Natural Methods of Healing, and to contribute to its scientific research and development.
Legal Structure of Volksmed School
Volksmed School is a nonprofit, private Teaching Institution offering Academic Courses with a rigorous multidisciplinary curriculum based on a wealth of academic and clinical research. Its Registered in the United Kingdom as a Learning Provider. The School educates and trains both students and physicians, practitioners and pre-professionals in the Art, Science and Research of Integral Health. The School is founded for the purpose of consolidating the pioneering field of natural science and spiritual wisdom to become just as useful and practical and as measurable as any other phase or science of human experience. And as such to establish an improvement of the health and well-being through education, research and general health care.

The School is governed by a Board of Trustees that appoints the president of the School, who is ultimately responsible for all academic and administrative policies as well as institutional financial management and planning.

Refer to a listing of School officers and members of the Board of Trustees.
Dean
Prof. Rui Alexandre Gabirro, D.D., D.H.E.

Chief of Staff

Provost

Finance and Administration
Prof. Ingrid Betancourt, Phy.Ed.

Institution Relations Officer

Student Affairs & Human Resources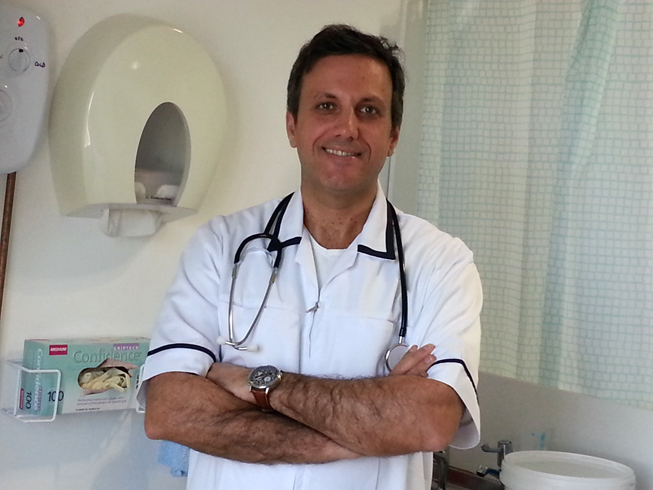 Professor Rui Alexandre Gabirro, Emunctologist, KHTP®, GCH®, LMT®, DBR®, OM®, CA®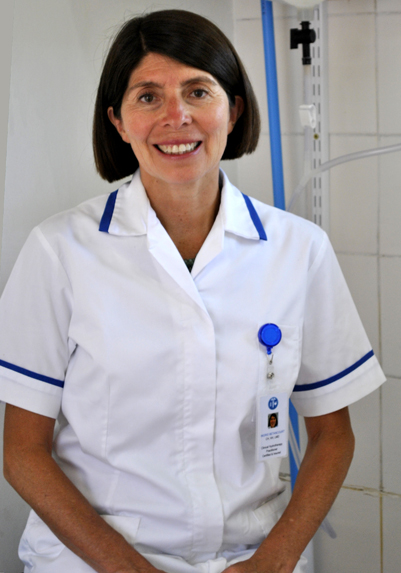 Professor Ingrid Betancourt, Emunctologist, Phy.Ed., KHTP®, GCH®, LMT®, OM®, CA®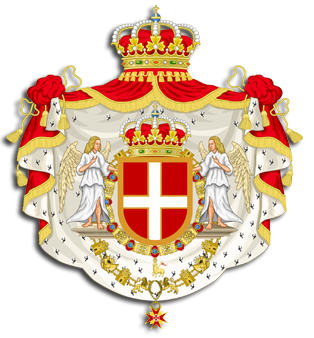 Volksmed School of Health & Pharmacology: Is part of the non-for-profit organization Hospitallers Order of the Good News.
Volksmed School of Health and Pharmacology is the School of Health Sciences of the Hospitallers Order of the Good News and it is fully owned by the Order.

Health Professionals must help those in need, to be in Harmony Physically, Mentally, and Spiritually. Has All Healing must be of a Positive Nature, and the Willingness of the Body Desire for Wellbeing and Health at its core must be based in the Willingness of the Spirit.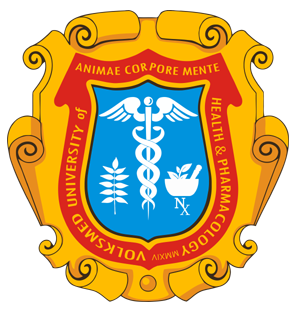 Proposed Shield

It is an aim of Volksmed School of Health & Pharmacology to achieve University Status, in this regards the board of trustees has authorized the School to take the necessary steps to gain university status in the near future. This will allow the School Academic Curriculum to be enlarged and more in accordance with the quality of the Academic Sciences that the School offers.

Please note: The school has no "degree awarding powers" and no "university title".
Institutional Regulations
1. Education Policy

2. Academic Freedom and Tenure
The School nor its employees don't pledge, nor give any promises, and DON'T pledge nor give any guarantee of treatments.

The School and its employees don't give any medical counselling, (none of the employees of the organization is trained in medicine (allopathic), the organization has no one trained in any medical speciality, and no one is qualified in any field of so called medicine.

The Institute has nothing to do with medicine (allopathic). The organization has nothing to do with pharmaceuticals (synthetic medication).

The School works with published research information, and its aims are to apply the same findings in further research, and search and record any evidence that may result of the application of same.

Our School does not dispense medical (allophatic) advice, prescribe or diagnose medical (allophatic) illness.
"Medicine is a science of uncertainty and an art of probability."
- Dr William Osler, MD, founder of Allopathic Medicine in "Aphorisms", page 129.

"The aim of medicine is to prevent disease and prolong life, the ideal of medicine is to eliminate the need of a physician."
— Dr William J. Mayo, MD in "National Education Association, Proceedings and Addresses", 1928.